Latest News / Untold News Awards for Israeli Innovation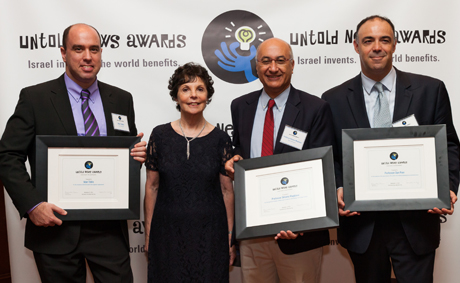 First Annual Untold News Awards
On November 12, 2014, Untold News held the inaugural Untold News Awards event at the Harmonie Club in New York City. Inventors were awarded $10,000 cash…

On November 12, 2014, Untold News held the inaugural Untold News Awards event at the Harmonie Club in New York City. Inventors were awarded $10,000 cash prizes for their groundbreaking innovation in technology and science. TV personality Dave Price emceed the ceremony. Inventors went on an express-paid press tour in New York and Boston.
Winners were:
Shlomo Magdassi of Hebrew University, who invented flexible, cheaper touch screens for smart phones (bio).
Dan Peer of Tel Aviv University, who invented the cancer bullet, a new treatment that kills cancer cells without damaging surrounding tissue (bio).
Idan Tobis of Tavor Orthopedic Devices, who invented the first metal knee ligament replacement, which drastically shortens recovery time for this very common injury (article).
This year's Untold News Awards applicants were submitted by prestigious Israeli universities and hospitals to a jury of prominent Americans:
Joel Citron, CEO, Tenth Avenue Holdings
Dr. Barry Coller, Chief Medical Officer, Rockefeller University
Nada Jain, Managing Partner, Golden Seeds Fund 2
Heidi Jacobus, Chair and CEO, Cybernet Systems
Morris Offit, Chairman, Offit Capital
David Schizer, former Dean of Columbia Law School
Tony Tether, former Director of DARPA
Bob Weiss, President, Back Bay Biosciences, LLC
Inventions were evaluated based on improvement of the human condition, worldwide impact, and feasibility.
Untold News Awards – Press Release