Latest News / Tiny Dynamo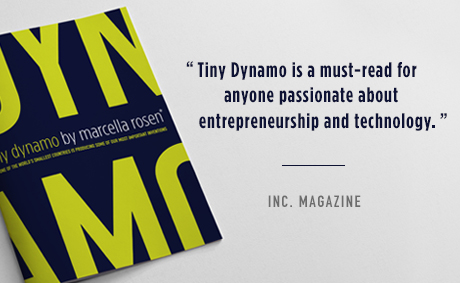 Tiny Dynamo in Inc. Magazine and Bloomberg Radio
Our book, Tiny Dynamo, was featured in Inc. Magazine's article "5 Israeli Start-ups Quietly Changing the World." Christina Desmarais writes, "Marcella Rosen's Tiny Dynamo is…

Our book, Tiny Dynamo, was featured in Inc. Magazine's article "5 Israeli Start-ups Quietly Changing the World."
Christina Desmarais writes,
"Marcella Rosen's Tiny Dynamo is a must-read for anyone passionate about entrepreneurship and technology. In her book–which reads like a compilation of Inc. stories you could breeze through in a couple of hours–she profiles 21 fascinating Israeli start-ups churning out inventions that solve real, global problems."
The article goes on to summarize five Tiny Dynamo Israeli inventions.
Untold News President Marcella Rosen was also interviewed on Israeli innovation on Bloomberg Radio's "Taking Stock. Listen to the segment here. You'll find more Tiny Dynamo stories on our press page.